[ois skin="Untitled Skin"]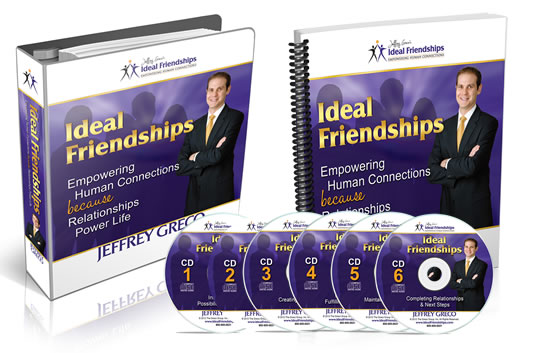 Ideal Friendships Program
Empowering Human Connections
Ideal Friendships Program reveals how everyday people can transform the way human beings relate to each other and have fun in the process. Your ability to creating new friends, developing meaningful relationships as an adult and maintaining friendships when life gets busy is simple with the easy to implement system. We can really change the whole way you interact with people so that you can get a completely different set of results than you've gotten before.
"You will be able to create friendships and keep them vital if you follow Jeffrey's ideas. Friendships are essential for our self-esteem, as I have found in my practice as a Marriage and Family Therapist. Jeffrey's program brought back ideas to me about friendships that I had not though about for some time." – Jerry Campana, Marriage and Family Therapist (MFT)
"Because of Jeffrey Greco's Ideal Friendship program, I have a new understanding of myself and the way I relate to others. What I have learned doesn't just relate to friendships, it's also relevant for my business relationships, intimate relationships and relationships with people in my family." – Jan Spencer Rosen, Founder and CEO Energy Integrity
And that's been the most beautiful experience since I wrote the Ideal Friendships program is watching people just like you have a completely new experience with relationships that are powerful, exciting and simple to implement to get the results they've always sought in friendships. That is why the book is called "Ideal Friendships" because this stuff actually works creating ideal friendships in your life.